Capture Zirconium, Phosphate Solutions
Capture Zirconium, Phosphate Solutions
Spray Wand Manual Pretreatment Systems
Don't Let Phosphate, Zirconium Surface Chemicals Go to Waste.
Now you can use a manual spray wand and still recycle degreasers, phosphate, zirconium and other metal pretreatment solutions in powder, paint, E-coat, and plating systems. Ideal for spray wand degreasing large metal components and equipment in a closed loop washing and filtration environment. Used in hundreds of finishing systems, the system power washes and recycles the solution for reuse.
The Riveer spray wand system is ideal for pretreatment applications in powder, paint, E-coat, and plating systems. Because the wash solution is being recycled, users can wash as long as necessary without worrying about sending thousands of dollars of chemistry down the drain. The Riveer system has saved operations tens of thousands of dollars every year by recycling phosphate and related pre-treatment chemicals. Whether you are degreasing equipment or applying a conversion coating process, we can help save you time and money while the closed loop system ensures environmental compliance.
Cut Your Chemical Costs by 85%
Spray and recycle degreasers, phosphate, zirconium and other metal pretreatment solutions in your operations
EPA Compliant, Zero Discharge
Vacuum suction for recovery during spray, a superior process to minimize cross-contamination
High throughput wash, rinse, filtration and reclamation
Excellent ROI on chemical and disposal costs
Complete turnkey systems including integration with paint, cure and dry operations
Easy to Operate, Simple to Maintain
Provides a cost-effective means of performing your process while preventing groundwater contamination and simultaneously reducing water/sewage discharge costs.
Can be set up with multiple stages for wash, rinse, pretreat and seal. Systems with 7 stages are currently in use around the world.
Uses a vacuum to recover process water from above ground wash racks, trench drains and mats.
Standard filtration with this system includes an oil coalescing and oil skimming, ozone injection, 24/7 recirculation, a pressurized line feed and filtration for particulate
Best of Class Features for Paint, Powder and Plating Operations
Built-in regenerative blower provides suction to recover water from steel racks, in-ground sumps and concrete washpads — with minimal cross-contamination between stages.
Recycles phosphate solutions, alkaline solutions, rinse solutions and water.
Stainless steel and poly for all wetted parts.
200-gallons of solids settling.
NEMA 4 electrics.
PLC controlled.
Continuous ozone injection.
Oil Coalescing.
Automatic oil skimmer.
Absolute filtration to 5 micron – 24/7 Continuous recirculation.
Automated Pretreatment
Automated multi-stage pretreatment systems that ensure repeatable, predictable, high quality processing.
Oil Water Separators
Oil water separators can easily be integrated with other equipment to meet the industrial user's needs.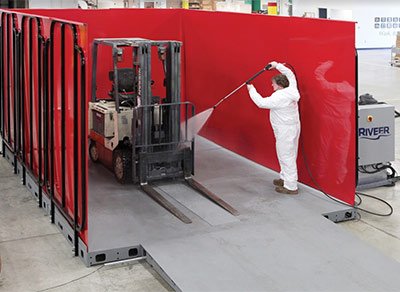 MRO Washing
Maintenance and repair work has never been so efficient with a comprehensive wash rack system.
The Solution is Clear with Riveer.
The Solution is Clear with Riveer.