Metal Degreasing and Pretreatment Systems
Metal Washing and Pretreatment Systems
Manufacturing Pretreatment
Metal Pretreatment, Uniform Conversion Coating, Surface Preparation
Wash Water Capture, Metal Pretreatment, and Recovery Systems
Cleaning and metal pretreatment of parts in production, metal pretreatment prior to painting, powder coating, and plating operations all share one requirement: efficient solution application, superior rinse, and recycling. Riveer offers wash and recycling systems to accomplish these tasks quickly, effectively, and safely. Riveer pretreatment, washing, and degreasing systems are engineered to efficiently use and recycle your preferred cleaning solutions, be it a degreaser or phosphate, zirconium, nano. . . you name it. No propriety chemicals required. Use what's best for your process. . . and your pocketbook. . . with Riveer Pretreatment and Metal Parts Washing systems.
Choose Automatic or Manual Spray Wand Metal Pretreatment Operations
The Riveer line of Metal Pretreatment Systems spans the requirements of today's compliant manufacturing operations. Our process capture, treatment, and recovery systems are designed to optimize water and water-based solutions to clean, degrease or pretreat just about every part used throughout your facility.
From manual spray wand (pressure washer wand) processes to fully automated wash systems, Riveer's experienced engineers and salespeople can help save time, resources and chemicals while also improving production rates, process repeatability, part cleanliness and operating within a zero-discharge environment.
Washing and Pretreatment Solutions for Manufacturers: 
Manual Wand Wash Systems
Manual wand wash systems are easy to use and effective for containing and recycling run-off.
Automated Pretreatment
Automated multi-stage pretreatment systems that ensure repeatable, predictable, high quality processing.
Enclosed Wash Booths
Wash booth systems are totally enclosed to capture process water and chemicals and built into your line.
Ash Wash Booths
Designed to spray wash and contain ash burn-off to provide easy, comprehensive parts cleaning.
Pretreatment FAQs
Get answers to common questions about how our pretreatment and degreasing systems work.
Rain Testing Station
Test your products to make sure they are water-tight with an automated rain testing station.
Above Ground Wash Racks
Our modular, rugged steel wash racks can be installed in a few hours with no permits required.
Oil Water Separators
Oil water separators can easily be integrated with other equipment to meet the industrial user's needs.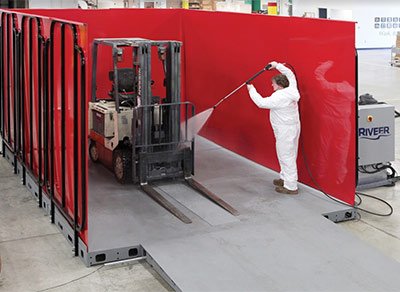 MRO Washing
Maintenance and repair work has never been so efficient with a comprehensive wash rack system.
The Solution is Clear with Riveer.
The Solution is Clear with Riveer.